Article: Tips for quality gifts that will please.
Tips for quality gifts that will please.
Christmas is approaching and you can enjoy this pre-Christmas time in peace and quiet, because we will take care of the gifts for you this year. We bring you tips for pieces that are guaranteed to please under the tree. We have prepared a selection of our favorite products for you, such as luxurious terry bathrobes for adults and children, stylish towels, original swimwear or playful scrunchies.
1. Czech swimwear




Looking for a gift for someone who loves the water, water sports or is just talking about starting to swim regularly? Give a stylish and

fitting swimsuit

as a gift. The one-piece from the Basic collection will please the active athlete, while the two-piece Donna swimsuit will please the lover of exotic holidays. We will be happy to help you with the size and we have a lot to choose from. A minimalist and a fan of patterns and colors will find their place here.
2. Set of designer towels

Either for mom, sister or friend or as a gift for the whole family. A set of soft and absorbent towels is a practical gift that is definitely not boring! Choose from three set variants or mix the combination you like the most.

Whether you choose the minimalist version of

Drop towels

or the playful and delicate

Flóra collection

, this gift will become a favorite part of the daily routine and the recipient will remember you every day.
3. Soft bathrobe

The most pleasant piece of home clothing, which faithfully waits for you after a bath, which warms you up and which also works as an interior accessory thanks to its original design. Practical kimono cut, two pockets and absorbent terry material create a perfect product. Just choose one of the three colors. We are sure that this materialized luxury will really please everyone. So that even your children can enjoy the greatest comfort, we have created a novelty this year.

The kimono bathrobe in the children's version is now available in a universal and cheerful orange color. This mollusk will be a success under the tree.
4. Colorful scrunchies

A little thing that puts a smile on your face. An ideal gift for a colleague or friend in the form of a stylish accessory. We sew our scrunchies by hand from leftover swimwear, each one is original and each one is stylish. Choose the right one and make yourself happy with colorful trinkets.
~
5. Gift voucher

If you still don't know what to choose, but you would like to make someone happy with a gift from us, we offer you the option of purchasing a gift voucher, which will surely be a hit (in our case, more like a color).
~
And that's all for today.
If our article helped you with your choice and saved you time, we are happy. We believe that the pieces created in our workshop will delight your loved ones and will faithfully accompany them not only in the coming year.
He wishes for a peaceful pre-Christmas day
FLOAT ♥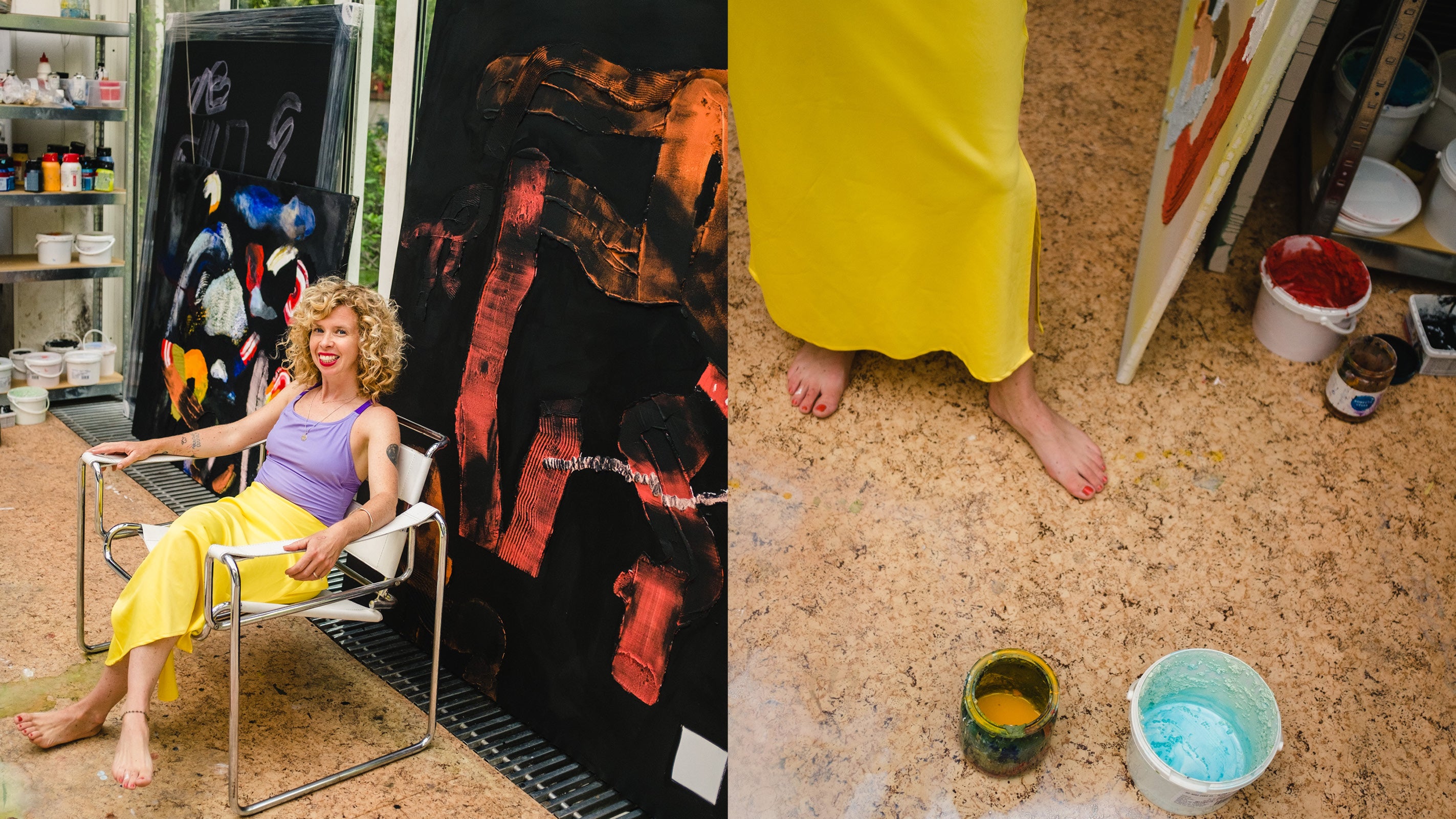 artist
Visiting Lu Jindrák Skřivánková
I am very happy that our swimwear is worn and loved by strong and inspiring women. One of them is Lu Jindrák Skřivánková. A painter, artist and energetic woman whose work I have been following ...
Read more