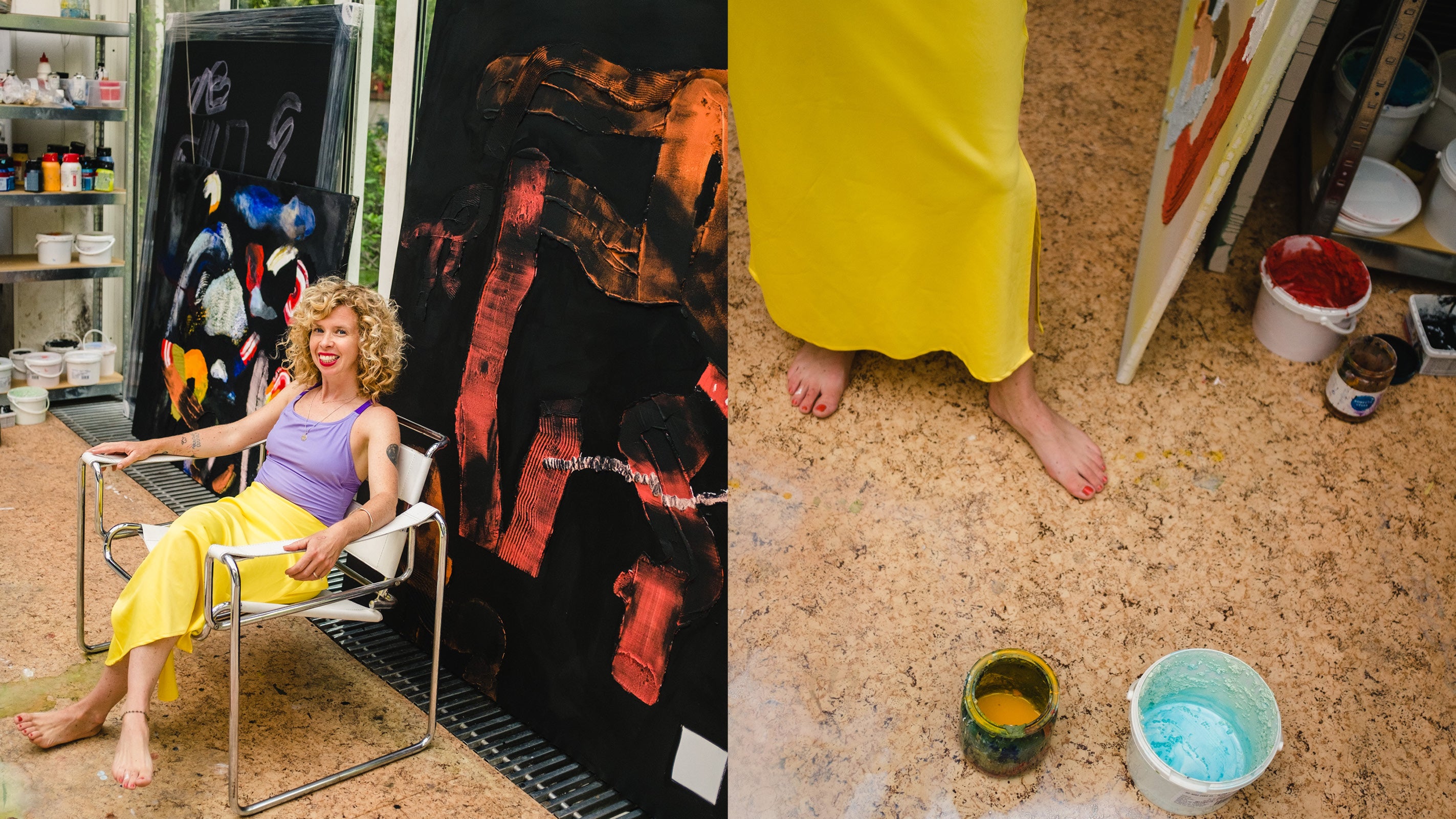 Visiting Lu Jindrák Skřivánková
I am very happy that our swimwear is worn and loved by strong and inspiring women. One of them is Lu Jindrák Skřivánková. A painter, artist and energetic woman whose work I have been following and admiring for a long time. At the end of the holidays, our team and I had the honor of visiting Lu in person, and it was a truly extraordinary experience.
You can now enjoy the fusion of fashion, art and nature in an editorial created in her beautiful new studio in Nové svět. Enjoy an inspiring spectacle, draw energy from the bold colors and dazzling smile of the talented Lu.
What I like about Lu's work is the expressive work with colors and their places, up to the pasty application, which on closer inspection looks like a beautiful low relief. I like the intermingling of two-dimensional and three-dimensional elements on the canvases. For me, unique color compositions play a significant role in her work, which are created intuitively to a large extent and can awaken emotions and imagination in the observer.
I personally visited the Lu

Blackout

exhibition at

the Karpuchina gallery some time ago and I was impressed by how

she uncompromisingly painted over black at the end with her typical whimsical abstractions in pastel colors dynamized by a dense structure. At the same time, it was not about recycling older canvases, but about brand new and carefully composed work. A selection of paintings was on display in the gallery, where black and its shades surprisingly predominated in combination with small accents shining through the lower layers of the canvases.
This creative approach inspired me on many levels, but mainly because of how refreshing it is to sometimes

take a break from "strong colors", immerse yourself in the shades of deep black and let a

different kind of energy affect you. The works from this exhibition directly invite you to dive into their interior, into depth, layering and symbolism, imbued with a kind of cathartic dimension.
I am already very much looking forward to the next exhibition and to what this energetic artist will surprise us with next time. If you are interested in Lu's work, see more on her website . Thank you for the invitation, the inspiration and we wish you a pleasant reading!